Design Tips for Your Dining Room
There is something about the hues and moods of Tuscany, that enhance the dining experience. The food tastes richer. Your family draws closer. And friends abound. With these simple design tips for your dining room, you can create a perfect Tuscan atmosphere.
Start by choosing friendly hues and textures that add warmth.  Painting your walls with a faux glaze of shades that set a Tuscan mood. With so many wall colors to choose from, think about hiring a color specialist or an Interior Designer for your home. They can suggest professionals that specialize in painting or glazing to create that Tuscan feel.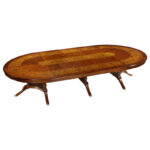 Once the colors set the right mood, find the perfect focal point, the place where everyone gathers: the dining room table.  Italian Dining Table GV1233i is a beautiful example. With Ventuno Inlay with burled ash in a warm walnut finish, this table beckons. It cries molto bello kissing its fingers. Add any of these chairs, and surround the table with elegance.
Next, choose your dinnerware. The possibilities are endless. Hand-painted Tuscan grape dishes add rural Italian charm. Or, rustic olive dishes could contrast beautifully with your glazed walls. Compliment your dinnerware with antiqued silverware and crystal goblets. Need a place to store it all? Be sure to check out our selection of sideboards and buffets.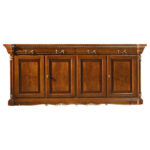 After the base is in place, accessorize and personalize. Find cast-iron metal-workings that fit your personality: candlesticks and wall art. Discover your wine rack. Or, you can make one from reclaimed wood.  Fill it with your favorite wines. Add rustic ceramics filled with fruit. Your dining room is your canvas, add elements of you to it. And, if you desire a Tuscan ambiance, keep your accessories organic, rustic. These elements will create a warm environment, where you can enjoy food, family and friends.
If Tuscany is calling, contact us. Let us help you, create a warm, beautiful dining experience, with furniture made by Italy's finest craftsmen.