Ciao from Verona, Italy! This week we are highlighting our chairs in the Madeira Red fabric with the small pattern on the seat of the chair and the large pattern on the back of back and front of back of the chair-whew! This year we will be introducing new fabrics for our Dining Chairs along with our Chairs & Sofas. All of our fabrics and leathers are made in Italy. We have been working hard to find the highest quality furniture producers in Italy, where we have an exclusive relationship to represent them here in the US and Canada.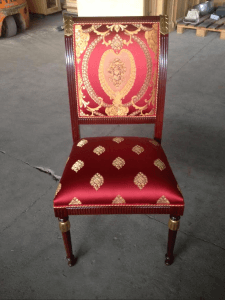 The first chair is the GV841s Italian dining chair with gold accents. The GV841s has been one of our most popular chairs in 2016. The two arm chairs that have been paired with the GV841s are the GV846p and are the same chairs seen in Milan at the Versace showroom last year.
We have a number of new collections that we will be showcasing on our "New" website over the next few months as we all prepare for Salone in April. We will be posting live feeds from the fair in Milan, Italy during the show. Next week….We are heading over to Genoa, Italy to speak to a company that has been producing some very unique furniture and home accessories that have been created by some of the best designers in Italy.
Call, email or browse our site. Talk to us about your next project and let us be a resource. We look forward to working with you!