Many people are wondering "What should I look for In a Dining Chair?" There is no particular set answer, but these tips below are the top things you should look for when buying a dining chair.
Size 
The size of a dining chair is one of the most important things that people forget to check. When looking for the right size you need, keep in mind the room and table size. The standard dining room table measures around 28″ from the floor and the average sized dining chair is 20-22″ wide and 20-22″ deep.  To comfortably accommodate everyone, 24-30″ of space between each chair and 7 inches between the top of the seat and bottom of the table's apron is suggested.
Calculate the average amount of space needed between the chairs, in addition to push-in and pull-out room. Also, make sure that the chairs are at an appropriate height. No one wants to end up with a chair that is higher than the table, unable to slide under the table or one that makes it hard for people to sit in comfortably. At Italy by Web all of our dining chairs are made to fit our dining tables.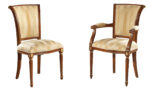 We offer various styles of dining chairs to choose. There are classic style chairs, modern styles, chairs with arms, armless chairs and much more. Find a style and design that brings out the aesthetic appeal of your table. A good style is one that enhances the overall look of the dining room. If you don't find a chair that you like, let us know, we have dozens of sources in Italy that we can check.
Italian fabrics and leathers are unique from fabrics and leathers sold in the US because they use unique designs that have been passed down for generations.  These designs are different from what you find in the US and can only be found in Italy. In addition, Italian Fabrics and leathers are recognized for their durability and tend to wear better than other fabrics or leathers. At Italy by Web, all of our fabrics are sourced in Italy, but from time to time we have customers or Interior designers that request using their own fabric sourced elsewhere. We can accommodate this request- it is called COM (Customers own Material), and we will ship your fabric to our manufacturers in Italy, where they will upholster your new dining room chairs.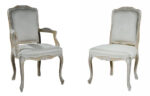 Comfort
In addition to size, comfort is also one of the top things to search for in a dining room chair. Some people prefer soft chairs while some prefer a firmer chair.  For some people to be comfortable, they need a chair with armrests, while some are more comfortable with armless ones. Overall comfort is in the design of the chair, such as the seat, lumbar support and height. Since there is no one universal comfort range, find the dining chair that you can comfortably sit in for 2-3 hours at a dinner party.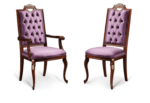 Quality is important for many reasons, but, more importantly, you want your chairs to last a lifetime and leave your guests feeling comfortable during your dinner party.  Our Italian chairs are made of hardwoods like durable beech wood. They also have both foam and springs in the seat, which provides enough firmness, along with softness. Dining chairs with both foam and spring cushions allow for more comfort and wear better than other chairs without.
When looking for a dining room chair, check the frame of the chair. Is the chair made with solid woods that have been dried for over three years removing 97% of the woods moisture? If the chair is all wood, where are the woods sourced? When you sit on the chair is it firm, yet comfortable enough to sit for a 2-hour dinner party? Also, check for defects, such as splinters, lumps and rough edges that shouldn't be there. A quality chair should feel smooth and structurally stable. Most importantly, will the furniture retailer stand behind every chair they sell? Do they have a no questions money back guarantee? At Italy by Web we stand behind every piece of furniture we sell.
At Italy By Web, we want to find the perfect chair for your home. If you would like to discuss your next project with one of our Interior Designers, or need more information, feel free to contact us.