As the home furnishings market continues its slow rebound, the recently-completed Milan furniture fair (Salone del Mobile) finished its 2014 run with some of its best numbers in years: 357,000 visitors attended this year (from 160 countries), up 13 % from the 2013 edition. While Italian furniture is always the largest segment, the show features exhibitors from all over the world as well. And as a sign of the show's importance to Italy and in the world market, this year's fair even included a visit from new Italian prime minister Matteo Renzi.
Beyond the numbers (and the generally staggering variety of furniture on display), as always this year's show included impressive new collections from ItalyByWeb's Italian furniture suppliers. For Guerra Vanni, familiar pieces from previous collections and entirely new offerings were unified by a look that called for attention by the brightness of lacquer & gold; and dining chairs were dressed up with new upholstery options that made them the belles of the dining ball.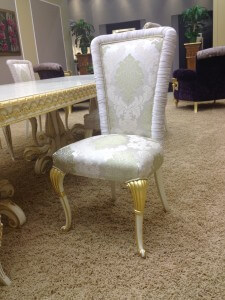 At Marconi's stand, they transitioned from a small set of lacquered pieces to a stunning new collection that perfectly showcased their incredible skill with handmade wood inlays — a collection that was at once both traditional and fresh. (And even before the collection was unpacked back at their workshop, clients were already asking us for quotes on custom sizes.)
It's never possible to encapsulate such an amazing show in a few words (with more than 1200 exhibitors one can literally walk for days and still not get a complete picture of all of the furniture on display), but hopefully these photos help bring some the wonder home.