The Chair Region in Italy in the province of Udine is in the north-eastern corner of the country. This area is known as Friuli Venezia Giulia, and 100 years ago was the heart of chair manufacturing. The area became known as "The Triangle of the Chair" because three municipalities San Giovanni al Natisone, Corno di Rosazzo, and Manzano led the production of chairs in the region.  Today this area has spread and now includes 11 municipalities.
This region is the chair making capital of Europe. The artisans in this area are responsible for approximately 80% of the chairs supplied to Italy and 50% of the chairs sold to the entire European region.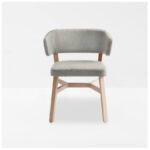 While this area has experienced a growth explosion in recent decades, the art of chair-making dates back as far as the 15th century in this region. Chairs have been around for thousands of years, but they were not the original choice for seating. Before the 16th century, people used chests, stools, and benches for seating options.
As manufacturing techniques improved chairs became more commonplace. This led to a rise in chair-making in Italy. In the early 1950's Friuli Venezia Giulia had just under 140 chair makers who employed approximately 1200 people. These numbers have swelled to over 1200 companies that employ 15,000 people.
One of the unique characteristics is how all the firms work with each other to create the perfect chair.  The chair-making is multi-phased. Groups of companies specialize in particular stages of the chair-making process. Therefore, no one company manufacturers a chair without assistance from other businesses.
Italybyweb.com is keeping this chair-making tradition alive. Contact us today to learn more about our furniture made in Italy.